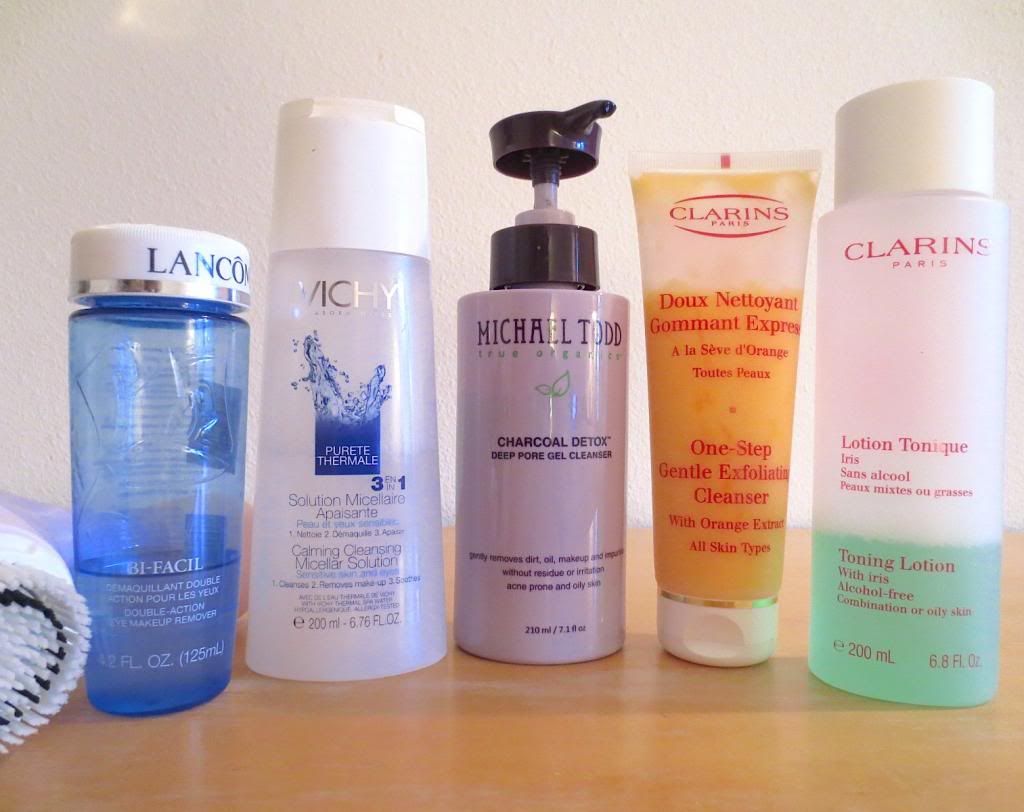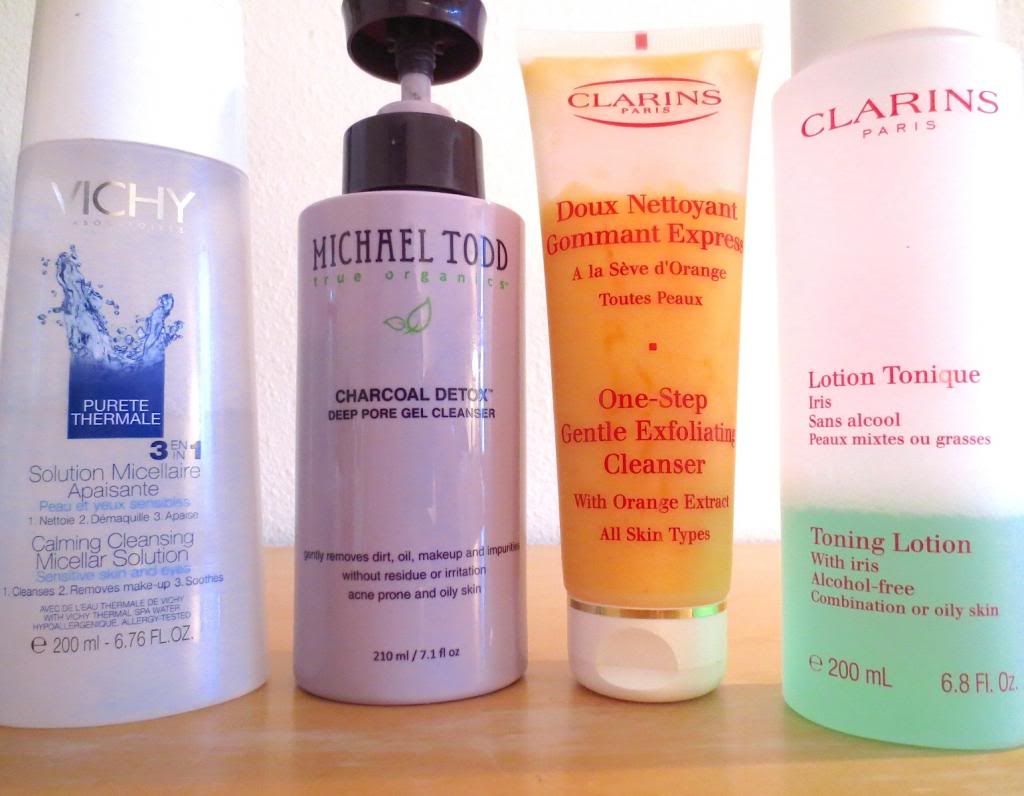 Following from my current favorite moisturizers and treatments, these are my top picks for cleansing and toning. I am quite prone to congested skin, but my skin is also sensitive to harsh antibacterial cleansers, so my goal is to achieve a deep cleanse without stripping my skin or adding anything unnecessary.
Makeup Removal
: At nighttime only, I start by removing my eye makeup with the
Lancome Bi-Facil Eye Makeup Remover
. This stuff works well, removing waterproof eye makeup without leaving an oily residue, but a cheaper drugstore alternative is good enough for me. Next, I saturate a cotton pad with the
Vichy Claming Cleansing Micellar Solution
and use it to remove all of my face makeup. This is a great alternative to Bioderma, and in the US it's slightly cheaper and easier to find. A bottle is under $20 and lasts at least a month with daily use. Even though I use a facial cleanser, I like to use the micellar solution first to make sure I remove every trace of makeup.
Cleansing
: My current cleanser of choice is the
Michael Todd Charcoal Detox Deep Pore Gel Cleanser
. This is the first product I've tried from Michael Todd, and I am so impressed... apparently everyone else is too, because this product is out of stock on the website! The cleanser is jet-black (a little jarring at first!) because of the charcoal, which absorbs impurities. It creates a gentle lather, but it's not drying and it's sulphate-free, so it doesn't sting your eyes, and it rinses off completely, leaving no residue behind. The only thing I'm not thrilled about is the smell... a small trade-off when you use a product with no artificial fragrances! I use this morning and night. Every other night or so, I use my Clarisonic with this cleanser to give a deeper cleanse. Also, once or twice a week when I'm not using the Clarisonic, I swap the Michael Todd cleanser for the
Clarins One-Step Gentle Exfoliating Cleanser
. This cleanser has tiny beads that buff away dead skin cells. I've read that chemical rather than physical exfoliants are better for your skin, but this product does make my skin smoother, so I'll keep using this and then look for an alternative once it's finished!
Toning
: aka... the step that I've ignored for most of my life. A gal I know at the Clarins counter talked me into purchasing the
Clarins Toning Lotion with Iris
, so I use this morning and night after I cleanse. Iris is a natural antibacterial, so this is formulated for combination or oily skin. I think it works... I'm not too sure, but I've obviously used a lot of it and my skin is happy, so I'll keep going until it's gone!
There you have it... my super simple and refreshing cleansing routine. I know I'll be trying new things soon enough, so I'd love to know what your favorite cleansers and toners are!