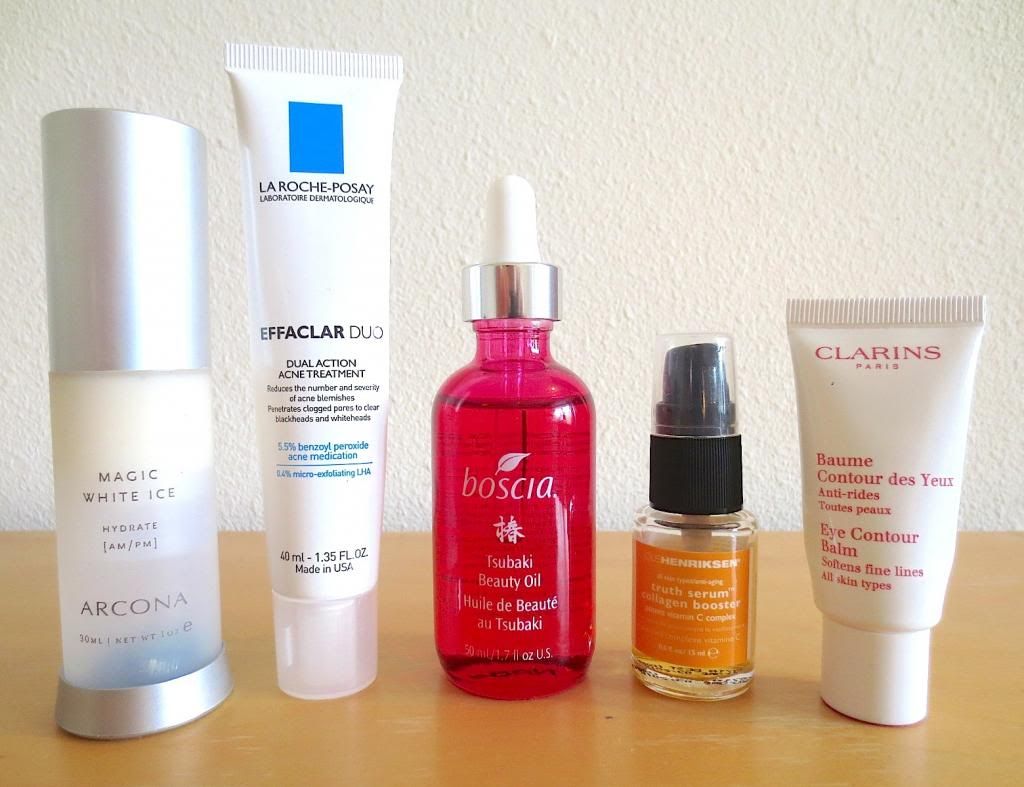 When it comes to skincare, my ambitions sometimes get the better of me. I hear about the latest and greatest, and next thing you know I'm comparing ingredients lists and switching out one product for another. A couple of months ago, all that experimenting irritated my skin, so I made it my mission to put the "routine" back in my skincare routine. I did some research and consulted a couple of clever ladies for recommendations, and fast-forward to now: I have a step-by-step routine, full of products that have rebalanced my skin. I love them so much that I haven't even felt the urge to cast a wandering eye around Sephora! Okay, let's keep things real here...
I'll be sharing my current skincare routine in parts, starting off with moisturizers and topical treatments. Morning and evening, after cleansing and toning, I apply one pump of the
Ole Henriksen Truth Serum Collagen Booster
, a serum packed with vitamin C that defends against free radicals and has a brightening effect. I follow that step with my
Clarins Eye Contour Balm
. I've been using this same tube for the past nine months (it's almost empty now), but it was worth the money and the consistency is perfect as a base underneath concealer. In the morning, I will next apply a pump or two of the
ARCONA Magic White Ice
hydrating gel. ARCONA is a natural brand based in LA; the ingredients are cold-pressed so they retain their nutrients. Magic White Ice is the lightest-weight moisturizer I've ever tried; it sinks straight into the skin and leaves a matte effect, but unlike other "lightweight" moisturizers that leave my skin tight and dry overtime, this one hydrates all day long. It contains cranberry extract, hyaluronic acid and a load of vitamins, and it also has the most incredible berry smell.
You can use the moisturizer AM and PM, but I prefer something a little more intensive at night, so I opt for the
boscia Tsubaki Beauty Oil
after my serum and eye cream. This is an antiaging blend of fatty and omega 3 oils, camellia (tsubaki) oil, which is calming and soothing, and rice bran oil, which is a natural source of vitamin E and antioxidants. I pat three to five drops of this all over my face and wake up with soft, dewy skin. It's suitable for all skin types, and it comes in a bright pink bottle... need I say more? If my skin is congested or has any blemishes, I will sometimes swap the Ole Henriksen serum for the
La Roche Posay Effaclar Duo
. I use this as a spot treatment rather than an all-over cream because it's a little dehydrating. If I use this, I'll let it sink in and then follow with a few drops of the boscia beauty oil.
You know a skincare product is working for you when you want to use it down to the very last drop. That's certainly the case with these products, and I know when they're gone I'll want them back in my life! To be continued with my cleansing and toning picks...