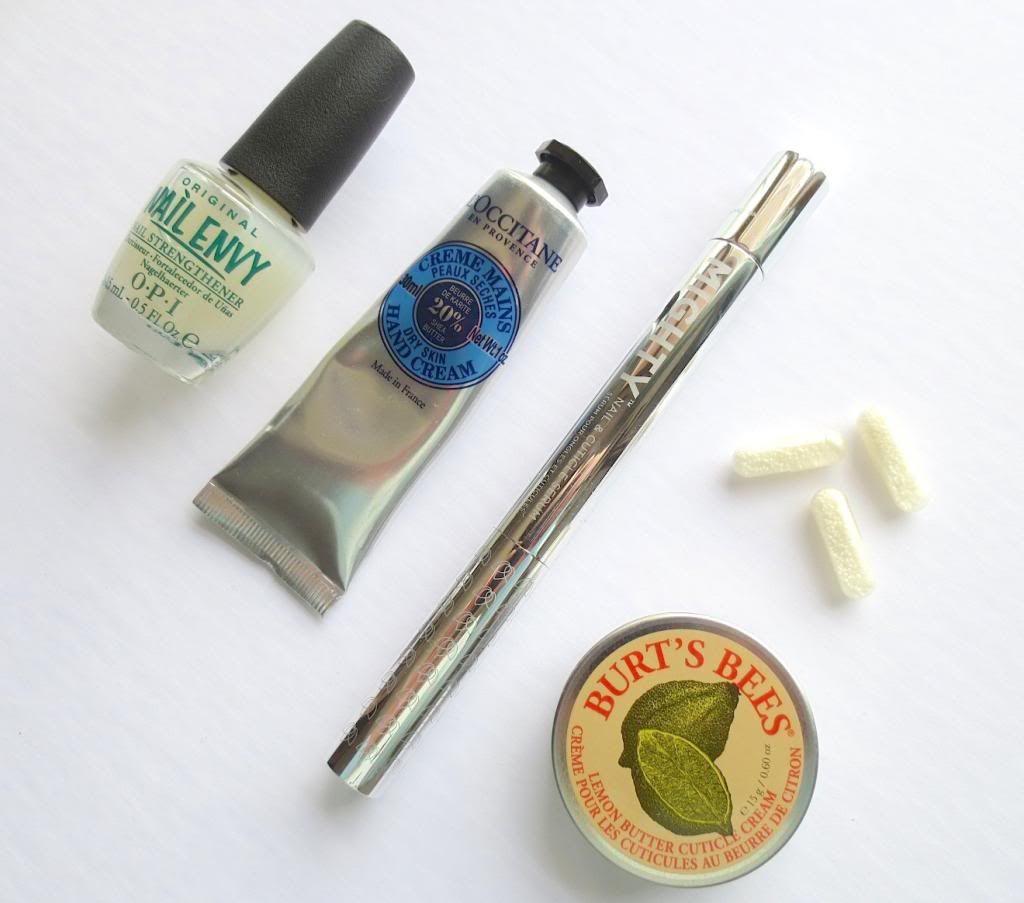 I'm convinced that when my fingers are freshly manicured, I'm a daintier version of my naked-fingernail self. I wear high-heels with grace, I gesticulate with elegance, I instagram my breakfast in style. Ahem seriously though, my nails au naturel are awful. They peel, flake, chip and do pretty much everything else that wallpaper inside a haunted house does. People always tell me that polishing them only makes them worse, but trust me, my nails were bad waaay before I started wearing nail polish.
Here are the things I've been using in my mission to strengthen my fingertips. When I'm good about moisturizing my nails and cuticles, they're less prone to damage, so to hydrate, I've been using one of my favorite hand creams, the
L'Occitane Dry Skin Hand Cream with Shea Butter
. It's rich enough to use as a nighttime hand cream but absorbs quickly enough to wear during the day. When I'm having a Desperate Housewives marathon, I'll multitask by massaging some of the
Burt's Bees Lemon Butter Cuticle Cream
into each nail bed. Another great thing to keep in your handbag and whip out during downtime is the protein-infused
Julep Mighty Nail & Cuticle Serum
. I've talked about this before
here
; you paint the base of each nail and presto!, nourished nails.
I'm a little on the fence about the
OPI Original Nail Envy Nail Strengthener
because it contains formaldehyde, and I try as much as possible to avoid nail polishes that contain this ingredient. OPI makes a formaldehyde-free "Sensitive Skin" version which I wrote about
here
, but I don't think it's as effective. A couple of coats will work as a buffer against further nail damage, so it works if you need a quick fix.
And as for the pills in the corner... don't worry, those are BioSil, a supplement for hair, skin and nails that contains silicon, which helps your body produce collagen. The claim is that this supplement can reduce fine lines and wrinkles, thicken and strengthen hair, strengthen nails and promote healthy bones and joints. Sounds like a miracle pill, don't you think?
Any tips for pretty fingertips?