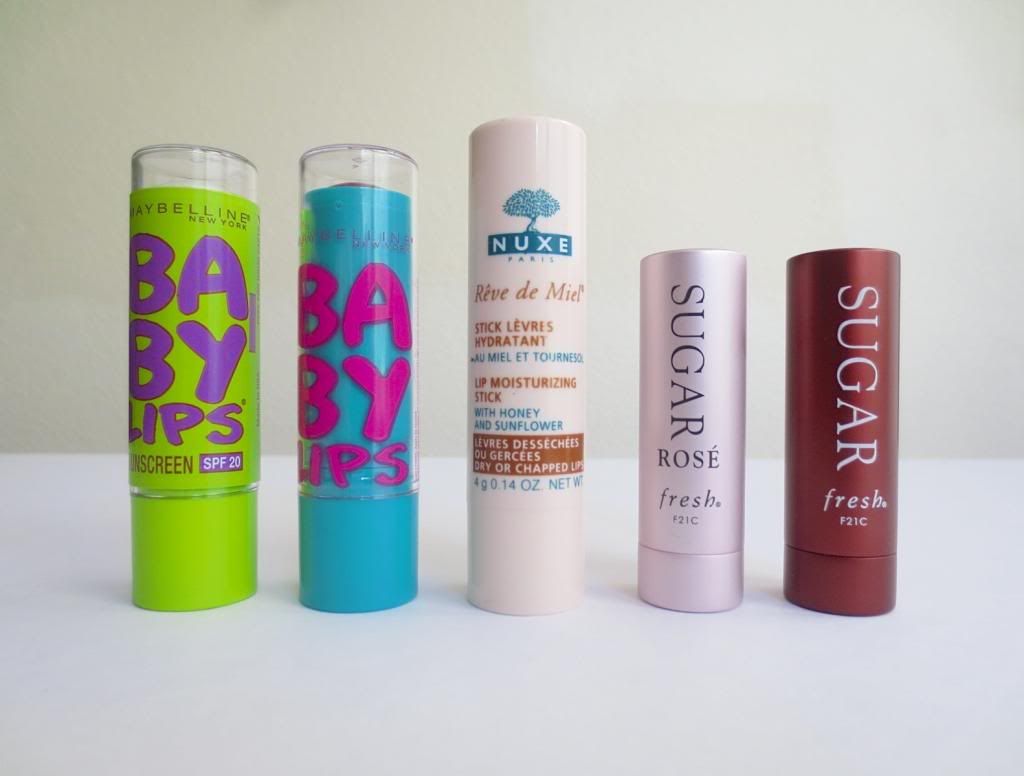 Now that can't stop wearing my favorite
YSL #13
, I keep a stash of lip balms at hand that are easy to reapply throughout the day. I recently stocked up on some new lip care products, so I thought I'd show you a few of my current picks. I prefer keeping stick balms in my handbag because they're the easiest to apply on the go or at work.
My old standby is the
Nuxe Reve de Miel Lip Moisturizing Stick
. I used this all year long and now it's down to a tiny stub. I think of this as the lighter, daytime version of the Reve de Miel in pot form, which I tend to use as a night-time treatment. At $9
here
, it's an affordable product with fairly clean ingredients that works well under lipstick. The most luxurious balms of the bunch are the
fresh Sugar lip treatments
; here I have two mini sizes of the original and the "Rose" version. The creamy, lemony formula delivers intense hydration and SPF 15. The original (brown tube) is colorless and the "Rose" gives the lips a sheer "my-lips-but-better" tint. These come in a variety of other tints; I also love "Berry." Unfortunately, one tube disappears quickly, and at $22.50
here
, it's not cheap to replace them. A decent budget alternative is
Maybelline Babylips
. I recently purchased two of these after a coworker expressed shock that I had never tried them (gasp!). I chose "Peppermint" (green tube), a clear minty balm with SPF 20, and "Grape Vine" (blue tube), a grape-scented balm with a plummy-purple tint that gives a surprisingly nice pinch of color. They were $3 at my local drugstore... not the nicest ingredients, but they're very effective.
Now I have my eyes on the EOS lip balms, which I hear have been released in stick form? I love the formula but find the round applicator annoying, so this is definitely good news! What's your favorite lip balm?