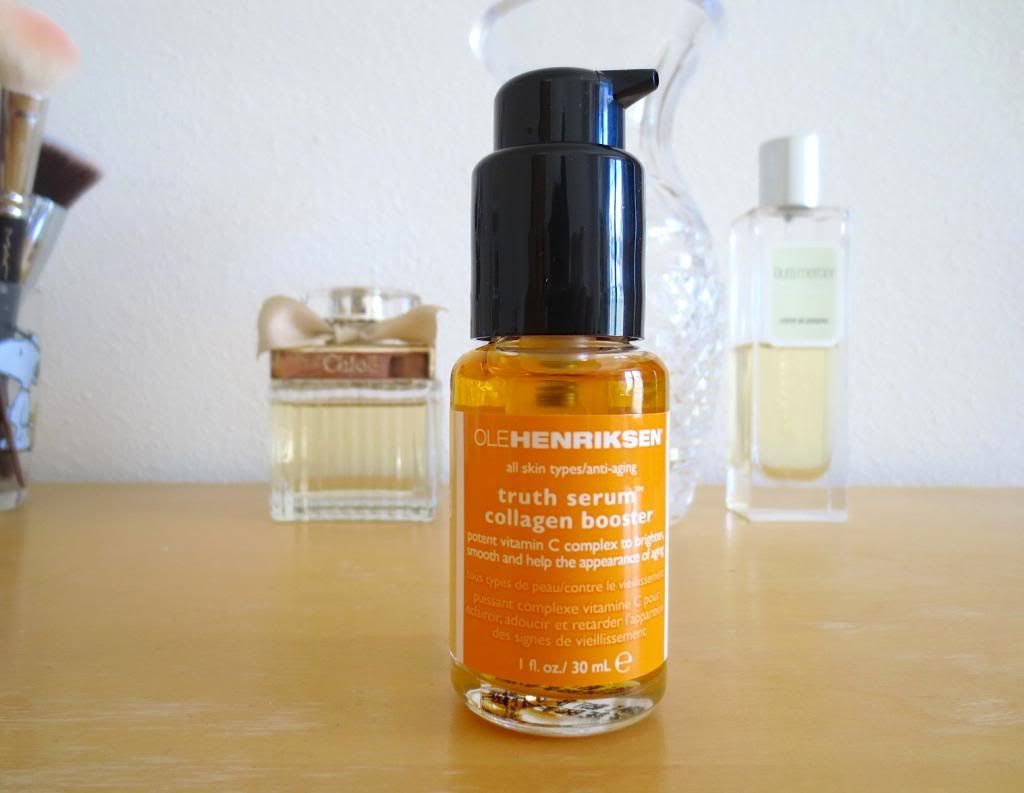 Last week, I squeezed the last drops from a couple of products in my lastest skincare routine, which I blogged about
here
and
here
. Usually, I seize the opportunity to try something new, but this time, I decided to repurchase one of the oldies-but-goodies, the
Ole Henriksen Truth Serum Collagen Booster
.
This is an anti-aging vitamin C-based serum meant to combat wrinkles and give your skin a healthy glow. When applied topically to the skin, vitamin C helps produce collagen and protect against UV damage. Ole Henriksen uses a form of vitamin C called Ester-c, which is found naturally in the body and is much stabler and more effective in skincare than another form of vitamin C called ascorbic acid. (You can read more about Ester-c
here
.) This serum also contains grapefruit and orange extract (purifying and brightening), green tea extract (another antioxidant boost), sodium hyarulonate (binds moisture to the skin), and vitamin E (nourishing and healing). It's free of oils, parabens, synthetic dyes, petrochemicals, phthalates and other potential irritants; Natural Health Magazine also called it "miracle worker of the year" in their 2010 beauty awards. I apply one pump of this serum morning and night. It has a slight "warming" effect on my skin but sinks in rapidly, so it's a pretty invisible extra layer under moisturizer or beauty oil. Since using this product, my skin tone has been smoother and more even, so I want to stick with it to see if the results continue. At $48 for a 30ml bottle, it's not cheap, but it's also not as expensive as other high-end serums on the market. (I've heard it's
much
cheaper to get this in the US than in Europe... something to keep in mind if you're visiting and need to stock up!)
It's hard to be perfect, and although I love this stuff, I have two hesitations. One, it contains fragrance, which is unfortunately the case for a lot of high-end serums on the market. Two, I've read via some sources that topical vitamin C treatments work best when they're kept in an airtight and opaque container. The bottle, which has a pump dispenser that locks closed, is airtight, but it's not the most opaque. Does this really matter??
Is there a serum or other skincare product you've liked enough to repurchase?