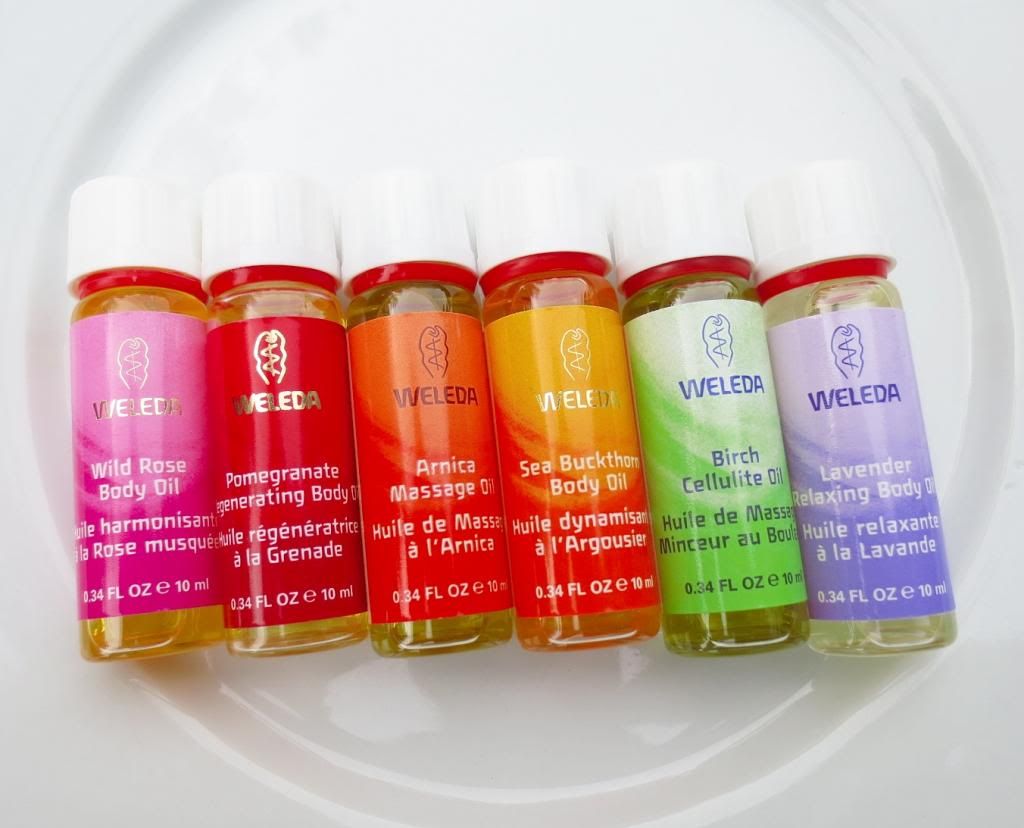 I am pleased to report that at the moment, my bathroom looks like a mini-apothecary. There's a cream for every level of dehydration, a stash of face masks in the top drawer, and pretty glass bottles containing various potions. And by "potions" I mean oils. More often than not, a top-to-toe slathering of body oil is just what my skin desires, and thanks to the
Body Oil Starter Kit by Weleda
, I have a potion for every ailment.
Weleda is one of those beauty brands you'll find in your local health food store. But it's also one of those health brands you'll read about in beauty magazines as one celeb after another professes her love for the brand's rich cream called
Skin Food
. Weleda's body oils are made from natural plant, seed and nut oils that provide long-lasting nourishment and moisture to the skin and a healthy dose of aromatherapy too. They don't contain any mineral oils, parabens, propylene glycol or artificial fragrance, so they're a great option for skincare purists. The Weleda sampler contains six body oils:
Wild Rose Body Oil
for pampering,
Pomegranate Regenerating Body Oil
to firm and renew,
Arnica Massage Oil
to soothe and warm,
Sea Buckthorn Body Oil
to replenish,
Birch Cellulite Oil
to improve
skin tone and appearance, and
Lavender Relaxing Body Oil
to soothe.
I love that each of these is made with a different use in mind. I've tried them all now, and so far the one I would most definitely repurchase is the Pomegranate Regenerating Body Oil. It's fresh and lightweight and absorbs into the skin quickly; I've even applied it in the morning before getting dressed, and it doesn't transfer onto clothing. As with most body oils, a little goes a long way, so one little 10ml vial should last at least several applications. Weleda is also an affordable brand. This kit is only $16, and a full-size 100ml oil is under $30.

I have high aspirations for my personal apothecary. As I type this another jar of coconut oil is on its way to me so I can rekindle an old obsession, to be detailed in a future post. I also have my eyes on the Caudalie Divine Oil.

Are you a body butter or body oil kind of gal?
Any lotions or potions you'd recommend?