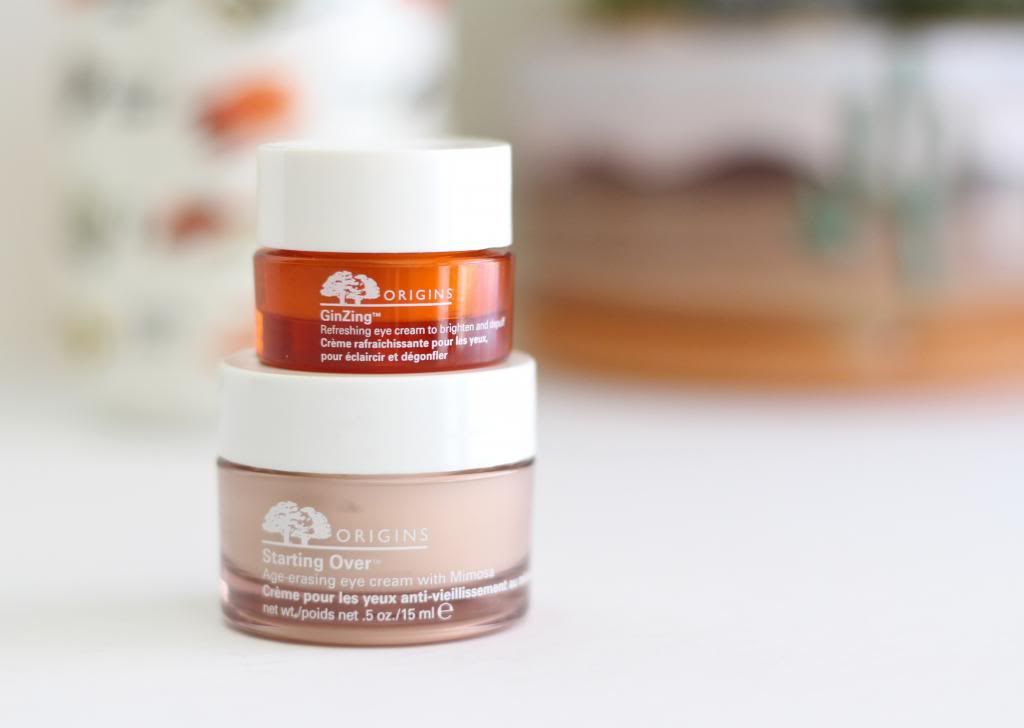 I started using eye cream around the same time that I started university. Since then, I've tried offerings from many different brands, but I've rarely found something good enough to repurchase. While some have worked better than others, I can't say that one has made a dramatic difference in my skincare routine; I mainly apply them for preventative purposes and cross my fingers that they're doing their job. Most recently, I've been testing out two eye creams from Origins.
I wanted an eye cream that targeted anti-ageing without aggressive chemicals (or a hefty price tag), so I chose the
Origins "Starting Over" Age-Erasing Eye Cream with Mimosa
(
US
/
UK
). Mimosa tree bark supposedly stimulates skin cells to produce more natural collagen. This eye cream also contains antioxidants as well as apricot kernel, olive and jojoba oils to moisturize the under-eye area. The texture is quite rich, leaning towards the Kiehl's Creamy Avocado Eye Treatment, and when I apply it at night I wake up with soft and smooth skin. It's not too thick to use underneath makeup, so it's suitable for the daytime too. Unlike certain anti-ageing products I've tried, this one doesn't sting or irritate the delicate skin under my eyes. It hasn't performed any miracles (then again, what eye cream has?), but it's one of the best eye creams I've used recently, and I'd recommend it to anyone looking for an emollient, gently anti-ageing option.
I'd heard great reviews about the
Origins GinZing Eye Cream
(
US
/
UK
), so when I received a small pot as a gift-with-purchase, I was eager to try it. Unfortunately, I have to dissent from popular opinion. This product is one of those skincare-makeup crossovers that, for me, didn't perform particularly well in either category. I don't suffer from major under-eye darkness, but I did notice GinZing was almost too brightening upon application: the salmon-toned cream contains iridescent pigments that draw attention to puffiness. I tried to use concealer to tone it down, but GinZing's tacky consistency didn't blend well with my makeup. Although its plant-based ingredients such as caffeine, panax ginseng and magnolia are good in theory, I didn't notice any anti-inflammatory benefits, and I wouldn't expect this eye cream to improve your skin's condition over time (
Paula's Choice
confirms my suspicions). I will stick to using "Starting Over" with my favorite YSL Touche Eclat on top.
What's your favorite eye cream? Have you tried either of these?