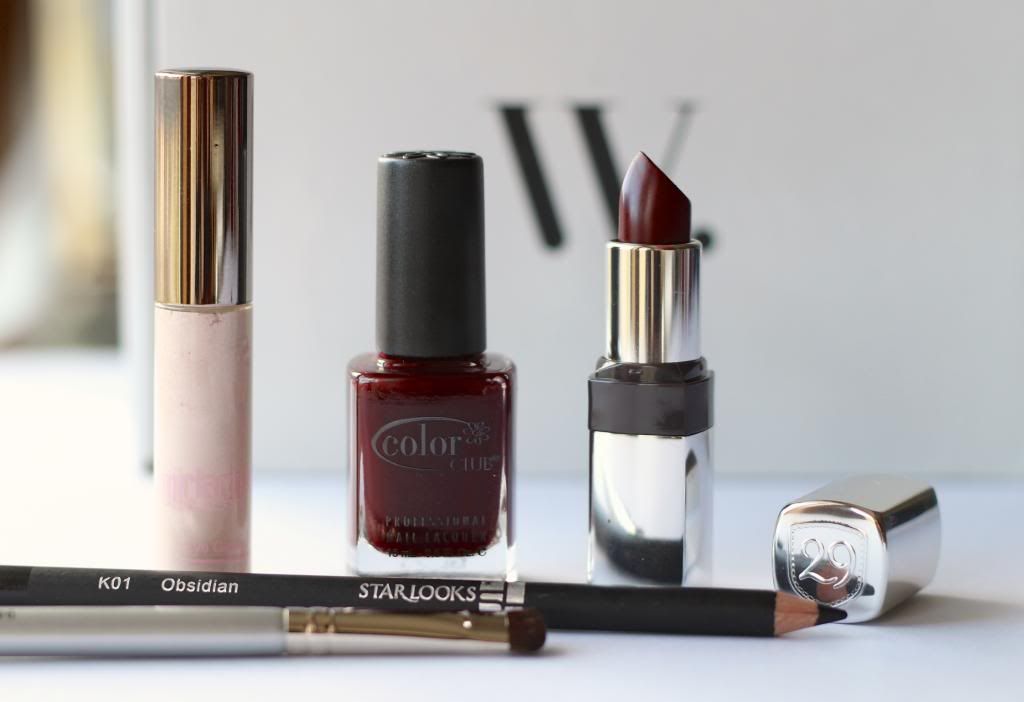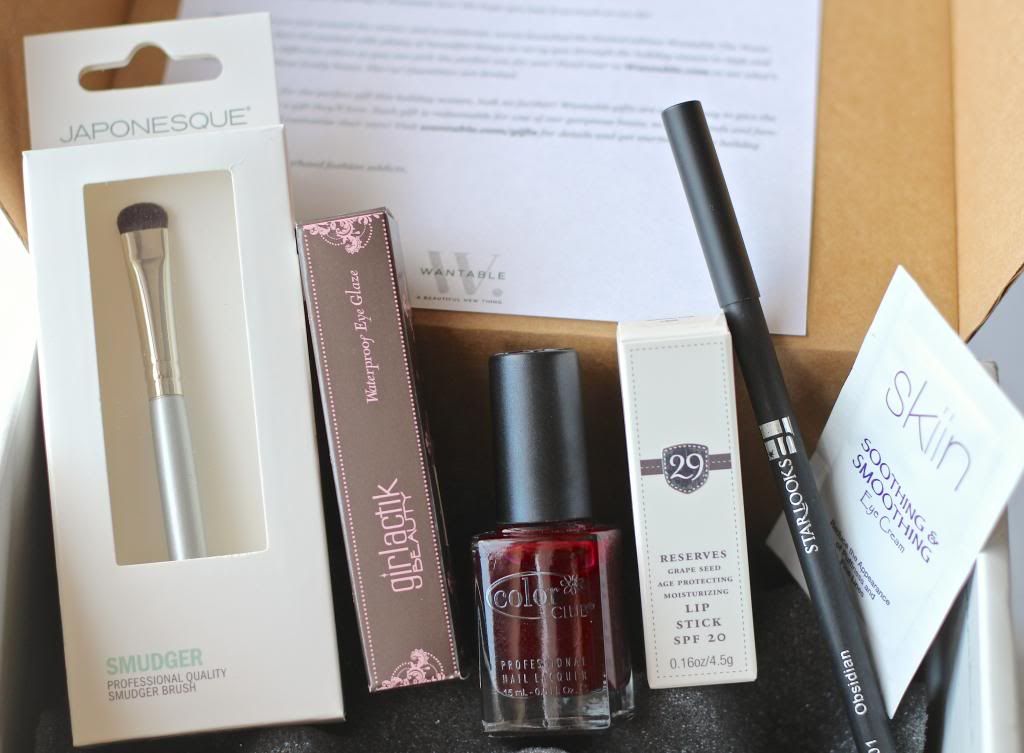 With the holidays just around the corner, I've been rummaging through my makeup in search of various shades of red and shimmer. How many shades is too many? Clearly I haven't reached that point yet, because when my November
Wantable
Box (c/o) arrived, I couldn't wait to try out the goodies inside. Here's a peek at the items I received, as well as my thoughts on which ones will see me through next month's festivities!
Color Club Nail Polish in "Feverish"
: Last year, I was obsessed with classic red nails; this year, it's all about dark red. When layered in 2 or 3 coats, Color Club's "Feverish" appears on the nails as it does in the bottle: a wine-red with a gorgeous
gel finish
. With my trusty Insta-Dri top coat over it, the polish lasted for about a week without chipping. Color Club polishes are non-toxic, and though the packaging/name seems rather tween-ish to me, the quality is comparable to that of Essie or OPI.
29 Cosmetics Reserves Moisturizing Lipstick in "Smoking Cab"
: 29 Cosmetics is based in Napa, California, so it makes sense that they infuse their lipsticks with grape seed antioxidants and SPF 20. The lipstick comes in weighty, silver packaging and feels extremely comfortable and moisturizing on the lips. "Smoking Cab" is a beautiful, burgundy red color that matches the Color Club nail polish perfectly. The one issue that I have with this lipstick is that the color bleeds slightly over time; I never have this problem with my dark MAC or YSL lipsticks. Anyone know how to stop a lipstick from bleeding? (Is it even worth the hassle?)
Japonesque Travel Smudger Brush
: I've really enjoyed the Japonesque Foundation Brush from my very first Wantable box. This Smudger brush is another welcome addition to my makeup bag. It's smaller than my other eyeshadow brushes, so it's perfect for precise blending.
Starlooks Kohl Eye Pencil in "Obsidian"
: This black eyeliner is pigmented and soft. It glides onto your lash line smoothly (no need for tugging) and because it's kohl, it's easy to soften into a smokier look. I don't think it's waterproof, which makes it easier to work with (but also easier to smudge unintentionally). An eyeshadow primer is definitely necessary with this; even so, I'd be cautious with this if you have very oily lids.
Girlactik Beauty Eye Glaze in "Glamour"
: I guess I'm guilty of judging makeup by its name, because when I first saw this product in my box, I was a little skeptical. Please tell me I'm not the only one who thinks "Girlactik" sounds a tiny bit like a 90s cartoon show? But that said, I
love
this. Eye Glaze is essentially an eyeshadow that comes with a doe-foot applicator. The texture is velvety and easily blendable with your fingers, but the waterproof formula stays put all day. "Glamour" is a pearly neutral color with a subtle shimmer that brightens up my eyes.
If you're looking for a unique holiday gift (or a super generous stocking stuffer), a
Wantable Box
would make any beauty-lover happy. Added bonus: the shipping is always ridiculously fast!