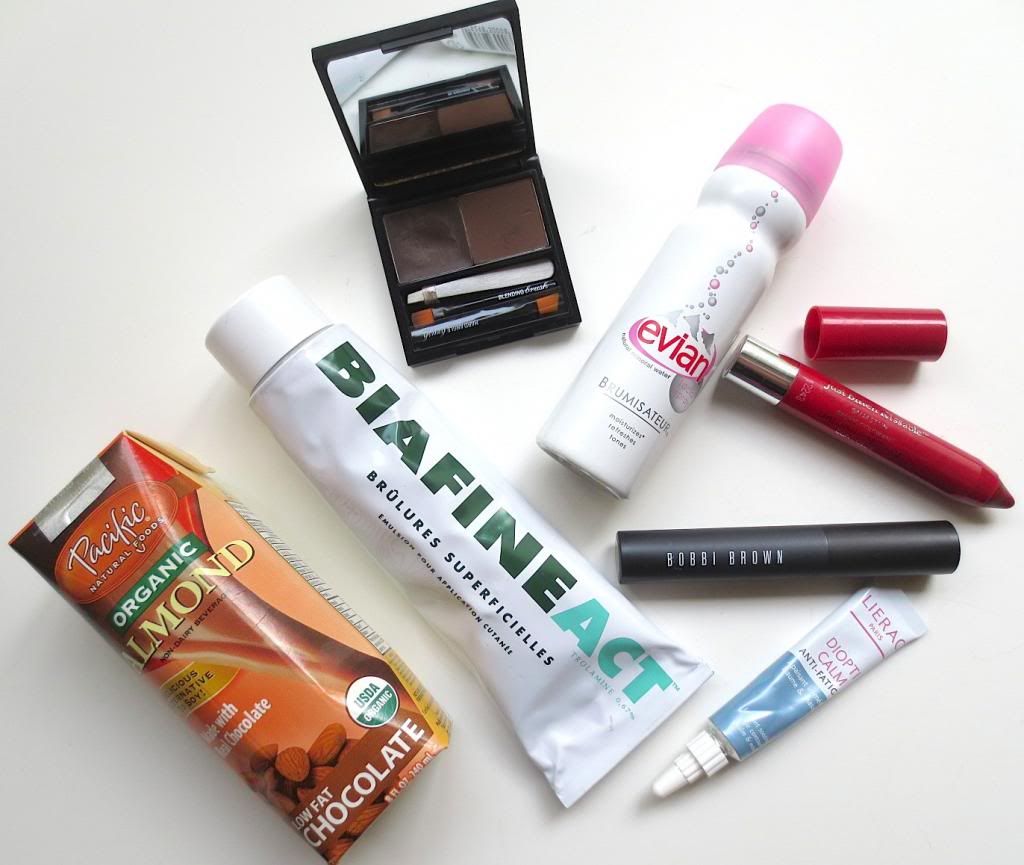 This month's round-up of favorites is short and sweet. There's something for everyone, and I know I'll be loving each of these products throughout the summer. First up in skincare is
Biafine
, a rich multipurpose skin cream. I hadn't heard of this until last year when Mr. E gifted me a tube and referred to it as a French woman's beauty secret. Biafine is a cure-all of sorts: it helps minor cuts and burns heal faster, it works as an intensive hydrating face mask or a super-rich night cream, and it's the perfect after-sun lotion. It contains avocado oil and has an herbally smell, and it's a quick-fix for dry patches of skin. Another hydrator I've been loving is the
Lierac Diopticalm Anti-Fatigue Eye Balm & Mask
. I heard about this product from several other bloggers and decided to give it a try after finishing my Clarins Eye Contour Balm. I use this as my everyday eye cream; it's really affordable (currently $16 on Amazon
here
!), cooling and lightweight. Lastly in skincare is the
Evian Mineral Water Spray
. This creates such a fine, refreshing mist and is the perfect on-the-go pick-me-up. Plus, the minerals and extra hydration it provides are great for your skin.
For makeup, I've been keeping my routine easy but bold and defined. Benefit's Brow Zings has helped me add natural-looking definition to my brows. I use the color "dark," and although the kit comes with a darker pigmented wax and a lighter setting powder, I mainly just use the darker wax, which is a perfect match for my brow color, and then set my brows with clear brow gel. This stuff will last ages and is easy to apply with an angled brush. One of my go-to lip colors has been the Revlon Kissable Balm Stain in "Romantic," a cherry-red color with impressive staying power. It gives the perfect red lip for the summer months. And of course, there's my newest favorite, the Bobbi Brown Lash Glamour Extreme Lengthening Mascara, which I raved about in my last post.
My last random favorite is Pacific Organic Chocolate Almond Milk. I've been experimenting with the vegan-'til-6 plan on and off over the past week (more on this later!), so I've been drinking almond milk as an alternative to dairy and soy. This chocolate one is a healthy fix for a sweet tooth too!
The fact that it's already June is just starting to sink in, and I can't believe it! Hope you're all getting excited for the summertime!